Admissions
As a Christian institution providing higher education in the liberal arts and selected professional areas, Southwestern Adventist University welcomes applications from students who will share the vision, values, and ideals of the university,  and whose desire for a successful education experience will enable them to commit to the total program of learning, development and service. The university is committed to equality and does not consider race, gender, age, disability, color, or national and ethnic origin in determining qualifications for admissions.
Admission is granted to applicants who meet admissions requirements and who will uphold the standards of the university in accordance to the Christian principles as taught by the Seventh-day Adventist Church.
Students are advised that admission is contingent upon the integrity of the information submitted to the University. Discovery of false information could be grounds for withdrawal of the offer of admission or for immediate dismissal. Dismissal would result in forfeiture of all charges paid and academic credits earned.
Freshman Admission
To receive priority processing and scholarship consideration, applications should be submitted by March 1 for the fall semester and November 1 for the spring semester. Application deadline is August 1.
Regular admission requirements
Transcript: submit one of the following
Official secondary school transcript with a grade point average (GPA) of 2.75-4.00 (on a 4.00 scale)
General Education Development (GED) test average score of 500 with no score below 450. Texas GED: 160-200 regular admission.
Home school transcript with courses, grades, and dates of completion with a state-issued certificate of secondary school completion if applicable.
General Certificate of Secondary Education: must have five (5) passes or more
Provisional Admission: GPA of 2.50 - 2.74
High school English or Math grades with D/F must be re-taken
Provisional status removed after 1 semester at SWAU with a 2.25>
Placement tests submitted after provisional admission which meet requirements for ENGL 121 and MATH 110 will change the entrance classification to regular admission
Students admitted with provisional status are required to take UNIV 011
Placement Scores
ACT 17
SAT 480
TSI Reading 351, Writing 340, Essay 4
ACCUPLACER Reading 80, Writing 6
Nelson-Denny score of 15
Southwestern encourages the TEA Recommended High School Program of 26 credits, which will increase a student's opportunities for success.
4 credits of English/Language Arts
4 credits of Mathematics, including Algebra I, II, and Geometry
4 credits of Science, including Biology, Chemistry, and Physics
4 credits of Social Studies, including World History, World Geography, U.S. History, 1/2 credit Government, 1/2 credit Economics
1 credit of Physical Education
1/2 credit of Speech
1 credit of Fine Arts
5 1/2 credits of Electives
2 credits of Foreign Language Studies
Applicants taking Advanced Placement classes should consult the AP examination program in the Academic section of this Bulletin regarding scores necessary for college credit.
Transfer Admission
To receive priority processing and scholarship consideration, submit applications by March 1 for fall semester and November 1 for spring semester.  Application deadline is August 1.
Transfer Admission Requirements
Official transcripts of all college/universities attended with a minimum cumulative GPA of 2.0
Students with less than 24 credits will need to submit proof of secondary school completion
Academic credit earned from regionally accredited colleges and universities will be accepted as transfer credit subject to the following guidelines:
Courses with grades of C- or higher will transfer
Even though credit hours are transferable, the hours may not necessarily apply toward a particular degree program or general education requirements
All courses taken at a community college transfer as lower-division hours only
Courses considered technical, developmental/remedial, continuing education, cooperative education, extension, English as a Second Language, and non-credit classes will not transfer
Transcripts submitted from non-accredited institutions are evaluated on a course by course basis
Transcripts from universities outside the United States must be evaluated for the student by an independent evaluation service. Southwestern recommends the use of World Evaluation Services www.wes.org
Transfer students who have not completed the general education mathematics requirement and/or the freshman composition requirement prior to enrollment at the University can submit the ACT or SAT for English prior to registering for classes. Required test scores for ENGL 121 can be any of the following: SAT ERW of 480, or ACT English of 17. Students can also take the Accuplacer or submit TSI scores.
Applicants who do not meet the published requirements may be considered for admission on academic probation. A letter of intent to succeed along with two references need to be submitted to the Office of Admissions for consideration by the Admissions Committee.
Admission to the Nursing Program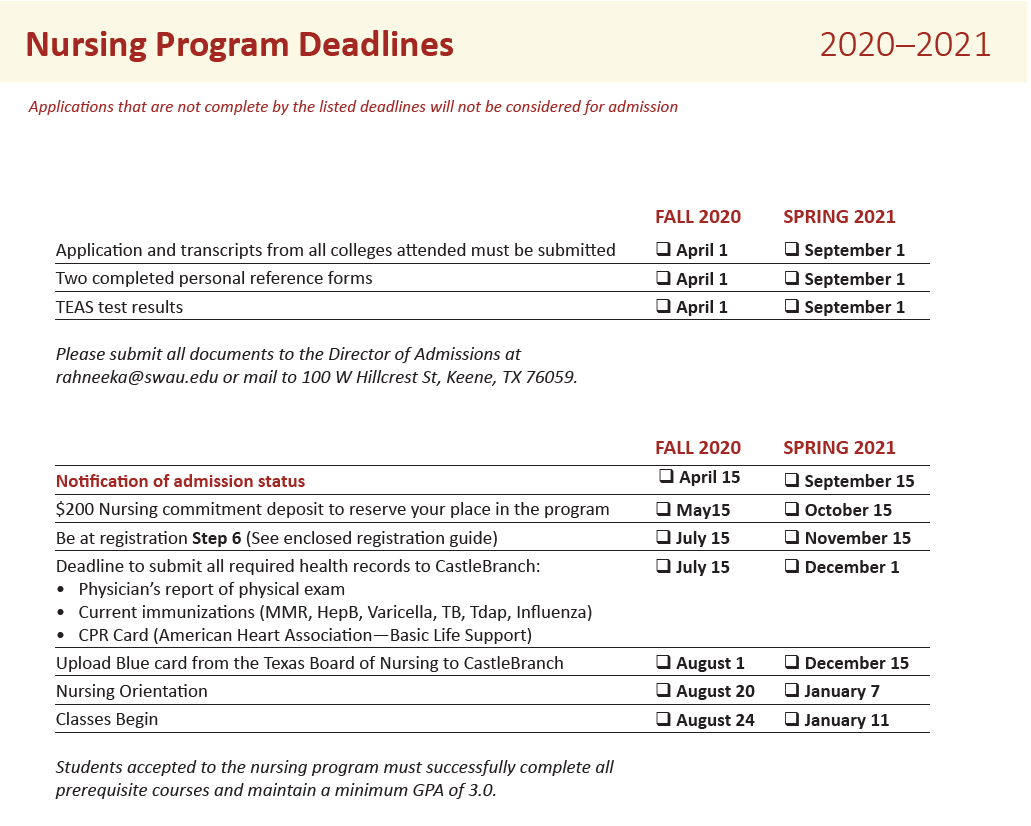 Admission of International Students
The application deadline is May 1 for fall semester and October 1 for spring semester.  Student must be fully admitted by June 1 for fall semester and November 1 for spring semester to allow sufficient time for the student to obtain an I-20 and obtain a student visa.
In addition to meeting the freshman or transfer acceptance requirements, an international student must submit official copies of all education documents validated by school or national officials. These should be in the original language, accompanied by a certified English translation.
Students for whom English is not their native language must submit any of the following tests with the minimum score listed:
TOEFL* (Test of English as a Foreign Language)
PBT old 550, PBT new 65, IBT 85, CBT 235
IELTS 6.5
iTEP 3.9
PTE 55
GTEC 1220
Michigan test 80
ERW 480
ACT 17 English
               or
Transfer of a minimum of 24 semester credit hours from a college or university where English is the language of instruction.
International Student I-20 process - F1 Visa
All students needing an I-20 must meet the following:
Submit legible copy of valid passport information page
Submit at least three (3) sequential bank statements that give evidence of income
Submit the international student deposit of $1000 which includes the $200 residence hall room deposit, and a $100 non-refundable processing fee
Pre-payment of $6500* for undergraduate students or graduate students
Upon receipt of I-20 student must submit payment to SEVIS for I-901.
*If a student is not granted a visa and does not enroll, these funds will be returned minus the processing fee and any transaction fees.
Current immigration laws allow an international student with an F-1 Visa to work on campus up to 20 hours per week during the semester and up to 40 hours per week during vacations provided that the student is registered for the subsequent academic semester. While there are many campus jobs available, Southwestern does not guarantee student employment.
Major medical insurance coverage must be purchased through Southwestern at registration. If a student is already insured through the SDA system, he/she must provide documentation of equivalent insurance coverage. No insurance coverage refunds will be made after the second week of classes.
International students should not leave their homeland until they have the following:
A letter of acceptance from Southwestern Adventist University
An I-20 from Southwestern Adventist University
A valid passport and F-1 Visa for travel to the United States of America
Application Procedure for Admission
Prospective students can apply at no cost online at www.swau.edu/apply or request an application packet from the Enrollment Services Office at enroll@swau.edu.
Completed paper applications should be sent to the Admissions Office with an application fee of $50.00.
It is the responsibility of the student to request all transcripts and SAT or ACT scores to be sent to the Admissions Office at Southwestern Adventist University. These become the property of the University.
When all documents have been received, the application, transcripts, and test scores will be reviewed and the Admissions Office will notify the applicant of the decision.
Commitment Deposit
New students who are accepted need to submit a $100.00 Commitment Deposit in order to reserve their place in the entering class. This allows access to student Portal when registration opens and provides priority processing for financial aid. Priority deadline is May 1 for fall semester and November 1 for spring semester. Commitment deposits are applied to the student's account and are non-refundable if the student does not enroll.
Admission of Non-Degree Students
Special permission to register is extended to a variety of students wishing to take classes at the University. Academic transcripts are not required. Tuition and fee charges for these students are provided in the financial section of this Bulletin.
Non-degree students desiring to change to degree status must apply and meet all regular admission requirements.
Audit. Students who plan only to audit a class must submit a Special Student Admission Application and a request for registration.
Dual Credit/Dual Enrollment. The University has several programs available to high school students to take University courses online, on-campus, or at a Southwestern Union academy. Students interested in these programs should contact the Office of Admissions and submit an application and a request for registration.
Teacher Certification. Individuals who need specific courses for certification must submit an application and a request for registration. Students interested in certification should consult the Department of Education section in this Bulletin.
Transient. Students enrolled at another college or university who wish to take a course must submit an application and a guest letter from their college or university.
Readmission to the University
Students seeking readmission after being unenrolled for one year must reapply and submit official transcripts from any subsequent college or university to the Office of Admissions.
Returning students will be readmitted provided there are no academic sanctions, disciplinary actions, or financial holds restricting enrollment. Students who are readmitted after two or more semesters of non-attendance must meet the degree requirements of the Bulletin in effect at the time of readmission.
Admission of Post-Baccalaureate Students
Southwestern Adventist University offers four-year graduates of any accredited college or university, including Southwestern, the opportunity to take additional undergraduate classes, to complete another undergraduate degree, or to apply for graduate studies. Admission policies will apply to these students as follows.
Additional classes only as a non-degree student
Additional undergraduate degree degree seeking student
The tuition discount for post-baccalaureate students is 50% of full tuition cost. Does not apply to the Nursing program.